Addressing interlinked food system challenges requires sound research and robust, inclusive multi-stakeholder collaboration. Platforms such as KLIP serve as a shining example of how this can be done for Kisumu and beyond.
In 2013, Kisumu, a vibrant city nestled along the shores of Lake Victoria, embarked on a transformative journey towards sustainable urban development with the launch of the Kisumu Local Interaction Platform (KLIP). Spearheaded by Professor Stephen Agong, KLIP unites diverse stakeholders and communities in knowledge co-creation to address the multifaceted challenges of sustainable urban development. KLIP researches various aspects of urban life, placing particular emphasis on urban food security. In making visible the dynamics between consumers and producers, it successfully bridges the gap between decision makers, local communities and academia to inform evidence-based policy-making.
A systems approach to urban food sustainability
KLIP firmly believes that sustainable urban development cannot be achieved in isolation, but rather necessitates the collaboration of individuals, producers, policymakers, and the broader community. Acting as a 'systems engineer' that is both neutral and non-partisan, KLIP diligently integrates local government entities, research institutions, private sector, and civil society stakeholders to prioritize food sustainability in Kisumu.
Working closely with the community and through projects like AfriFOODlinks, KLIP strategically intervenes along the food value chain. One specific focus of AfriFOODlinks involves promoting inclusive and innovative circular agribusinesses, which is particularly relevant in light of Kisumu's heavy reliance on food imports. In response, KLIP has been promoting local food production through sustainable fish farming initiatives in Lake Victoria to mitigate fish depletion, while also engaging in value-added imports.
To continue this work through AfriFOODlinks, Kisumu, in partnership with KLIP, JOOUST and WISE, will facilitate the emergence of innovative and circular food businesses, contributing to improved nutrition and food security in the city. This approach safeguards cities from becoming food deserts and ensures the resilience of business ecosystems in the face of global food market fluctuations.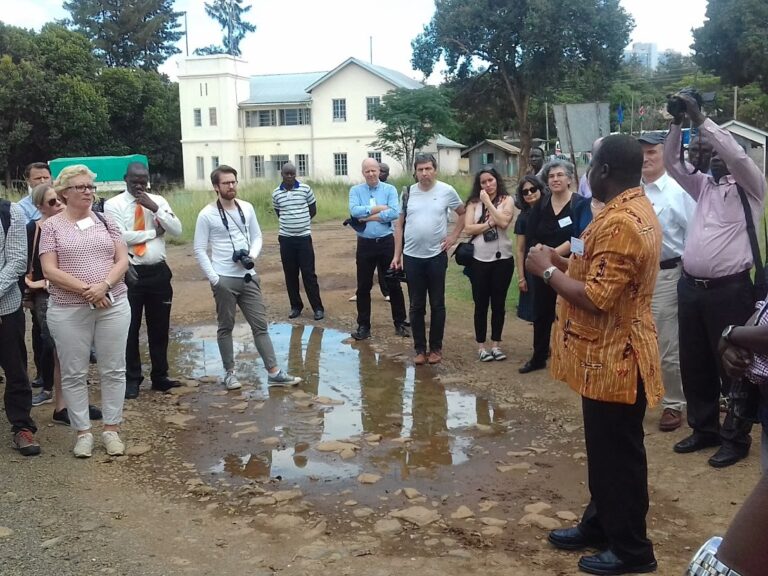 KLIP Director Prof Stephen Agong explains to visitors from other cities how KLIP has worked with other stakeholders to co-create knowledge for sustainable urban development
Empowering communities: supporting food entrepreneurship and the circular economy
KLIP's impact extends beyond policy frameworks; it actively supports entrepreneurship and champions circular economy. By bridging the gap between academic research and local governance, multi-stakeholder platforms have the capacity to translate research findings into actionable policies. Through AfriFOODlinks, our partners will continue to highlight the need for  accessible and affordable raw materials, cost-effective technologies and transportation, and the empowerment of women-led businesses and micro, small, and medium-sized enterprises (MSMEs) – which is part of the coaching activities envisioned for this project.
KLIP has already been pioneering innovative solutions to support circular economy interventions in Kisumu. By converting food waste from local markets like Kibuye into biofertilizers through community composting sites, KLIP not only reduces environmental impact but also creates economically viable products. Through AfriFOODlinks, initiatives like these will be scaled up. In establishing synergies between entrepreneurs and largely influential food companies in each project city, food waste and resource inputs will be minimized, while the value of food outputs will be maximized.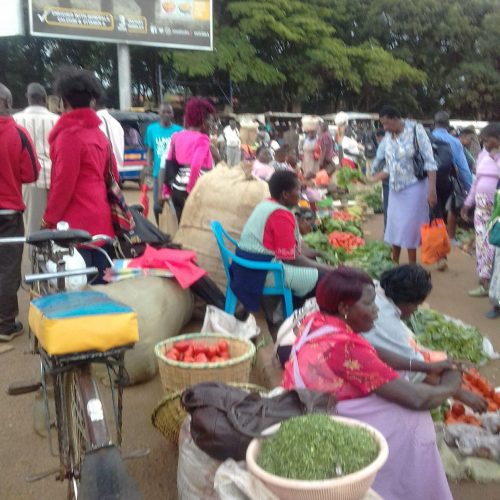 Informal food vendors on the streets of Kisumu: KLIP has worked with stakeholders to improve understanding of the important role of these informal traders in the food system, leading to expansion of markets to accommodate more traders
Next steps for AfriFOODlinks
The food system challenges outlined and the existing efforts of multi-stakeholder platforms like KLIP are a reminder of the way forward to sustainable food transformations in the region. Launching in 2024 and continuing towards 2025, AfriFOODlinks will scale up inclusive business models contributing to circularity, improved nutrition, and food security in the cities of Kisumu, Ouagadugu, Cape Town, Tunis, and Mbale. The project acknowledges the importance of strengthening the innovative business ecosystem of each city, especially for vulnerable food chain actors looking to develop profitable and resilient food businesses. Improving food security in the region can and needs to go hand-in-hand with ensuring health and nutrition, job creation, and the regeneration of the environment, especially for youth and women. AfriFOODlinks looks forward to continuing to work towards this common goal, with KLIP serving as an important partner and driver of food system transformations.
Interested in learning more about KLIP?
KLIP's journey in Kisumu serves as a testament to the power of collaboration and unwavering dedication in addressing the complex challenges of sustainable urban development and food security. For further information about the platform and to explore potential collaboration opportunities, please contact Professor Stephen Gaya Agong, Director and Ex-Officio to the Board, via email at info@kliptrust.or.ke.
Explore
"Governance"